September 2018
Publication : SudanPhotoGraphs Vol. 4 – Elnour Editions
Exhibition : Nubia – Galerie Agathe Gaillard – Paris
December 2017
Exhibition : De La Couleur (About Color) – Galerie Agathe Gaillard – Paris
October 2017
Claude Iverné in a pubic talk with Chris Boot – Aperture Foundation – New-York
September 2017
Exhibition : Claude Iverné, Bilad es Sudan – Aperture Foundation – New-York
July 2017
Claude Iverné in a pubic talk with the philosopher Jacques Rancière – Fondation Henri Cartier-Bresson – Paris
May 2017
Exhibition : Claude Iverné, Bilad es Sudan – Fondation Henri Cartier-Bresson – Paris
Publication : Bilad es Sudan – Éditions Xavier Barral
November 2016
Exhibition : The Khartoum School : The making of the Modern Art Movement in Sudan (1945-present ) – Sharjah Art Foundation – Co-curated by Hoor al Qasimi & Salah Hassan
February 2016
Exhibition : Photographies Soudanaises – Nicephore Niepce Museum – Chalon-sur-Saône, France
Publication : SudanPhotoGraphs Vol. 3 – Elnour Editions
June 2015
Claude Iverné, Laureate of Henri Cartier-Bresson Award 2015
March 2015
After fifteen years of discovering, saving and documenting photograpy in the Sudan, All members of Elnour are proud to announce entry of one of us un internationnal public collections. After The works of Rashid Mahdi, Abbas Habib Alla works joined wensday 11 march 2015 the last acquisition of the french museum, musée du quai Branly.
The Museum, musée du quai Branly of Paris introduced twenty six vintages from Abbas Habib Alla works.
We arranged his first trip in Europe for this occasion, as a public conversation at the musée Nicéphoe Niepce ( french museum of photography ) where we planned exhibition and books about Claude Iverné and Abbas Habiballa for the comming year (2016) as entry of their works in the public collections this year.
Signature & Public Conversation SudanPhotoGraphs a photographic collection, conversation with Gael Coto & Claude Iverné Chateau d'eau Public Library, City Hall of 10th District of Paris. Dec 4, 6pm
Exhibition : SudanPhotoGraphs Vol.1 &2 a Photographic collection or Book as expression.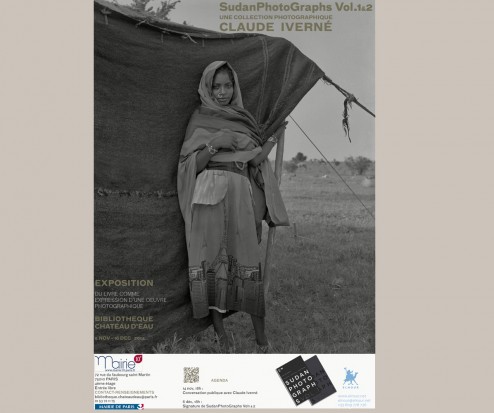 Lecture : " A singular history of photography in the Sudan though Elnour's archives " by Claude Iverné, Fouder of Elnour musée Nicéphore Niiepce, Chalon sur saône, France 16th april 2014, 6,45pm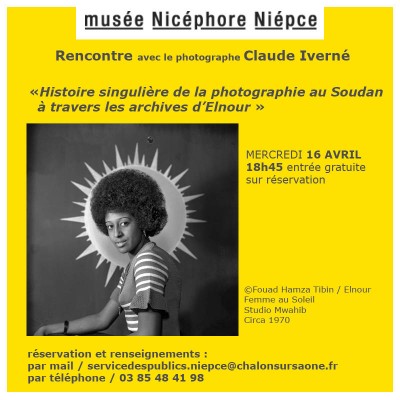 Lecture : Une photographie affranchie with François Cheval, director of the Musée Nicephore Niepce & Claude Iverné – Rencontres d'Arles – Hôtel d'Arlatan – Arles, France – Tuesday, july 2nd, 5.15 PM
March 2013
Exhibition : Darb al Arba'ïn – Maison de l'Afrique – Paris